| | | |
| --- | --- | --- |
| | Quick Find | |
| | | |
| --- | --- | --- |
| | Categories | |
| | | |
| --- | --- | --- |
| | Manufacturers | |
| | | |
| --- | --- | --- |
| | Shop by Price | |
| | | |
| --- | --- | --- |
| | Trade Associations | |
C6 Performance Specializes in the Next Generation C8 Corvette Stingray, C7 Stingray, Z06, Grand Sport, ZR1 Parts, C6 Corvette Accessories, Parts and Styling, C6/Z06 Corvette, C6 Grand Sport, C6/ZR1, C5 & C5/Z06 Parts and LS1, LS2, LS3, LS6, LS7, LS9 and LT1, LT4, LT5, LT2 Engines as well as all 2010+ Camaro, 1998-2002 Camaro/Trans Am.
Our experienced staff can assist you in selecting the right parts for your car to deliver the best styling and performance possible. We have one of the largest selection of Late Model Corvette Parts anywhere on the Internet with many exclusive items not seen anywhere.

If you don't see what you're looking for please Email Us at Sales@C6Performance.com for Fastest Service or Call Toll-Free 866-893-2090.

| | | |
| --- | --- | --- |
| | Categories | |
| | | |
| --- | --- | --- |
| | New Products For September | |

Corbeau Seat Savers, Baja Ultra Seat Saver, TR69401
$56.64

Corbeau Sportline Racing Seat, Evolution Black Vinyl / Carbon Red Stitch, 64901PR
$804.48

Corsa 11-13 Cadillac CTS Wagon V 6.2L V8 Black Sport Axle-Back Exhaust
$1,378.00

Corbeau Trailcat Racing Seat, Trailcat Black Vinyl / Cloth White Stitch, 44902BWPR
$804.48

Corbeau Chevrolet Corvette 97-04 (C5) Seat Brackets, Chevrolet Corvette 97-04 (C5) Seat Brackets, E1502
$114.24

Corbeau LG1 Racing Seat, LG1 Black Leather , L25501PR
$1,200.00

Corsa 2016 Cadillac CTS V 6.2L V8 2.75in Polished Xtreme Axle-Back Exhaust
$1,605.00

Volant Universal Pro5 Air Filter - 6.5in x 4.75in x 8.0in w/ 5.0in Flange ID
$69.90

Corsa 11-14 Ford Mustang GT 5.0L V8 XO Pipe Exhaust
$344.00

Corsa 10-13 Chevrolet Camaro Convertible SS 6.2L V8 Manual Polished Sport Cat-Back + XO Exhaust
$1,398.00

Corbeau LG1 Racing Seat, LG1 Black Vinyl , 25502PR
$766.08

Corsa 92-95 Chevrolet Corvette C4 5.7L V8 LT1 Sport Cat-Back Exhaust w/ Twin 3.5in Polished Tips
$1,467.00

Corbeau Forza Racing Seat, Black Cloth Wide, 20991
$287.04

Corsa 15-16 Ford Mustang GT Convertible 5.0L V8 Polished Touring Axle-Back Exhaust
$1,394.00

Corsa 16-18 Chevy Camaro SS 6.2L Xtreme+ 2.75in Cat-Back Dual Rear Exit w/ Twin 4in Polished Tips
$1,979.00
| | | |
| --- | --- | --- |
| | Featured Products | |

Ulitmate Car Care, Weathertech Bucket, Grit Guard, Wash Mit, Water Blade, Drying Cloth, Mothers Gold Car Wash
$129.95

$129.95




C6 "CORVETTE" Mirror Finish Rear Stainless Steel Letter Inserts, Fits all Model C6 Corvette
$64.95

$58.46



0 items
| | | |
| --- | --- | --- |
| | Your Account | |
| | | |
| --- | --- | --- |
| | Best Sellers | |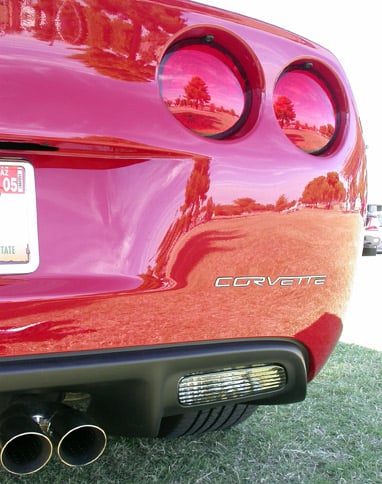 C6 "CORVETTE" Mirror Finish Rear Stainless Steel Letter Inserts, Fits all Model C6 Corvette
$64.95
$58.46
| | | |
| --- | --- | --- |
| | Live Support | |
| | | |
| --- | --- | --- |
| | Information | |
| | | |
| --- | --- | --- |
| | Cards We Accept | |
| | | |
| --- | --- | --- |
| | Site Payment Seal | |
| | | |
| --- | --- | --- |
| | Social Networking | |